Deshnoke
is a small town in the
Bikaner district
of
Rajasthan
,
India
, and about 30 km from
Bikaner
.The temple is dedicated to an early 15th century mystic, considered to be a reincarnation of Goddess Durga.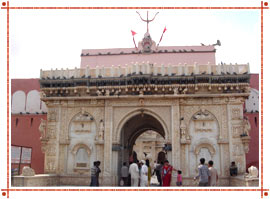 Deshnoke is famous for its 600 year old
Karni Mata
temple where rats are worshipped.This temple is quite famous for a large number of brown rats running around the temple complex fearlessly. It is believed that the souls of dead Charans (traditional bards, the devotees of Mata) reside in these rats. It is considered very lucky to spot a rat in the temple. During the time of aarti, these rats are offered sweets, grains, etc by the devotees.Originally the village was called 'dus- nok' meaning ten corners as it was formed by taking ten corners of ten villages.
Goddess Karni mata is worshiped by the royal family as well as general public of Bikaner and other parts of Rajasthan from old times.Ganga Singh, the former ruler of Bikaner, got the temple constructed totally of marble. Karni Mata temple, Rajasthan has silver and gold domes. Even the mandap and the panels above the image are made up of gold. The main gate of the Deshnok Rat temple, Bikaner has been intricately worked upon.
The Karni Mata temple is thronged not only by the Rajasthanis. Rather, devotees from all over India and even abroad pay a visit to the temple. At the time of Navaratri, a fair is held at the temple. Devotees from places far and wide flock to the temple at that time, some even on foot.